Brief History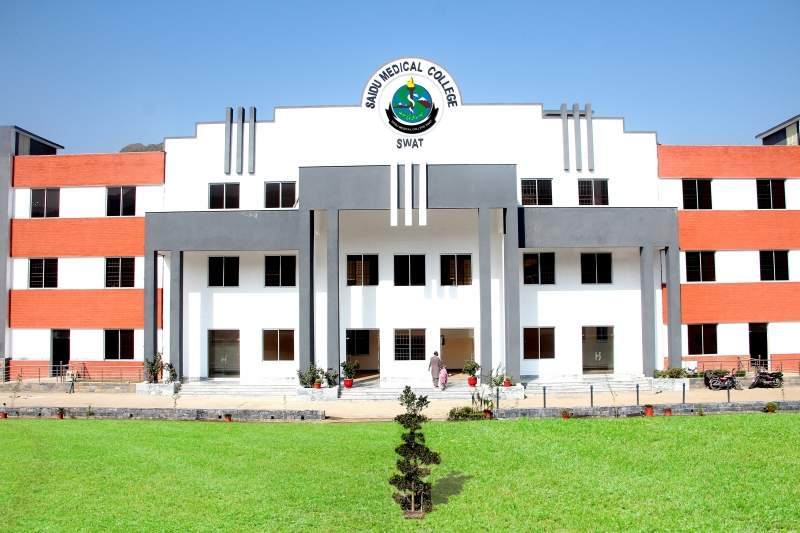 Since the historical announcement in October 1998 of the establishment of Saidu Medical College, on the floor of the Provincial Assembly, Saidu Medical College started functioning with enrollment of 50 students. The classes of first Batch of MBBS started on 28th December 1998 in the Holy month of Ramadhan.First Batch of MBBS Students of this college was commissioned in 2003. The College is housed in the old Paramedic School & Hostel, which have been completely overhauled, renovated and furnished. Hostel facilities for both male and female students are available. Peshawar University affiliation committee visited the college on 08th October 1999 and the college was approved for affiliation with University of Peshawar. The Saidu Medical College is presently affiliated with Khyber Medical University Peshawar.
Pakistan Medical & Dental Council has given recognition to the college on 6th August 2007. The college has excellent professonal staff both in Basic Science and Clinical Departments. Many graduates of Saidu Medical College Swat have passed FCPS in various specialties and are working all over Pakistan and abroad. The name of Saidu Medical College Swat has been listed in the WHO directory of International Medical Colleges and the degree has been recognized worldwide.
College of Physcians & Surgeons Pakistan (CPSP) has recognized Saidu Teaching Hospital for Fellowship training in all major Clinical departments.
Saidu Teaching Hospital is attached to Saidu Medical College Swat with 1225 beds for all the specialties. Saidu Medical College, Swat is being maintained by the Govt. of Khyber Pakhtunkhwa and is under the administrative control of Health Department.
Another important area of interest in the College is continuous, medical educational programs in which the College and the attached hospitals arrange seminars, conferences and hands-on clinical skills programmes. The various special workshops are organized by KMU and College of Physician and surgeons which are attended by our faculty members and students. There is fully fledged modern library along with a computer-based online digital library and has access to more than 17,000 online journals/magazines. This facility is provided by the University of Health Sciences through Digital Library program of HEC to enable the faculty members and students to download medical literatures/information.
The Department of Anatomy, Biochemistry, Physiology, Pharmacology, Pathology, Forensic Medicine and Community Medicine have been established with well equipped laboratories, Lecture theatres, Dissection Hall, and museums. Computer Department and a Library for staff and students with sufficient number of latest books, reference books and journals.
Professor Dr. Muhammad Zahir Shah was the first Principal of Saidu Medical College Swat.
The present Principal of the college is Professor Dr. Israr ul Haq who is also the Chief Executive of Saidu Group of Teaching Hospital.