Department of Biochemistry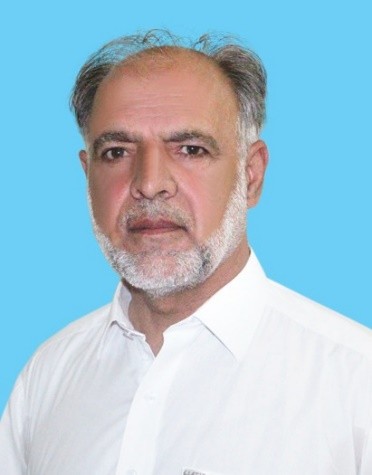 Professor Dr. Muhammad Hanif(HOD
Biochemistry Department is one of the basic sciences of Saidu Medical College Swat. The department is currently chaired by Professor Dr. Mohammad Hanif M. Phil Biochemistry (BMSI/JPMC Karachi). The department was first established in 1999. Biochemistry encompasses Molecular Genetics, Protein, carbohydrate and lipid sciences and metabolism.
Undergraduate students of MBBS are being trained in the subject of Medical Biochemistry with this belief that understanding biochemical basis of diseases, this may help in the practice of clinical medicine.
Goal and Objectives
To make medical undergraduate students understand fundamental concepts of biochemistry and to enable them to apply those concepts to the practice of medicine.
To provide teaching assistance to undergraduate MBBS students in the subject of biochemistry.
To provide an advanced understanding of the core principals of Biochemistry and molecular basis of diseases.
To develop skills of undergraduate students in practical work based on principals of various conventional and specialized lab investigations and instrumentation analysis.
To enable the undergraduate students to understand the modern methods of biochemical experiments, which will be helpful to promote research and post-graduation.
| | | |
| --- | --- | --- |
| | | |
Department of Biochemistry, Faculty members

S.No
Name of Doctor
Qualification
Designation
Faculty Reg. No.

1.

Dr. Muhmmad Hanif

MD, M.Phil (Bio-Chem)

Professor

4975/6150-N/M

2.
Dr. Sohail Waheed
MBBS, M.Phil(Bio-Chem)
Associate Professor
25185/15398-N/M
3.
Dr. Anwar Ali
MBBS, M.Phil(Bio-Chem)
Associate Professor
4956/9618-N/M
4.
Mr. Syed Muhammad Naeem
M.Sc, M.Phil(Bio-Chem)
Assistant Professor
N/A
5.
Dr. Salim ud Din
MD
Sr. Demonstrator
14987/11274-N/M
6.
Dr. Ihsan Ali
MBBS,MPH, MCPS(F.Med)
Demonstrator
18592/19677-N/M
7.
Dr. Nauman Khan
MBBS, MPH, MCPS(Paeds)
Demonstrator
35268/18618-N/M
8.
Dr. Faiza Shoib
MBBS
Demonstrator
23926/19406-N/M
9.
Dr. Tariq Aziz
MBBS, MCPS(Paeds)
Demonstrator
35094/22160-N/M
10.
Dr. Mian Rahmat Zeb
MBBS, MCPS(Paeds)
Demonstrator
37693/19470-N/M
11.
Dr. Saad Farid
MBBS, MCPS(Paeds)
Demonstrator
38167/21837-N/M